Researchers promote circular economy through augmented reality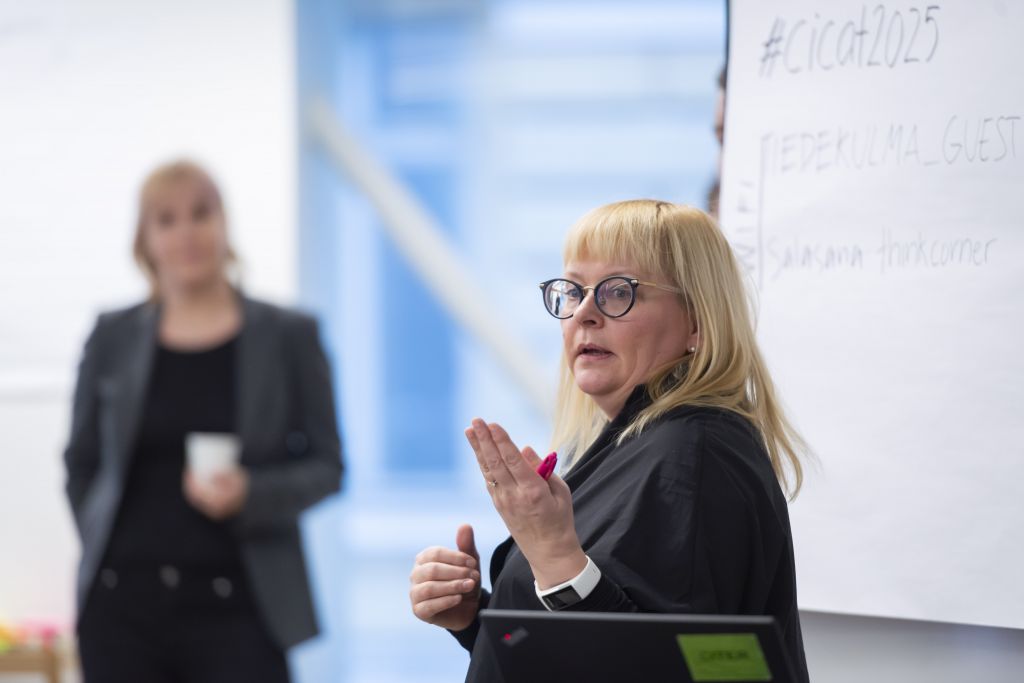 The circular economy researchers conducting the CICAT2025 project appeared virtually at an event arranged during Finland's presidency of the Council of the European Union to highlight the business opportunities opened up by circular economy. Their presentations were designed to raise awareness of circular economy among EU decision-makers and experts and to encourage them to engage in dialogue with scientists. The presentations delivered via augmented reality were broadcast at the European Days for Sustainable Circular Economy in Helsinki on 30 September.
"Augmented reality is a new media and narrative technology that holds promise to transform our lives even more profoundly than the arrival of the internet. Augmented reality encourages us to re-evaluate our relationship with material possessions and offers us unprecedented ways to achieve new insights. Finding new uses for existing materials will support our transition to a sustainable circular economy," says Vice PI of CICAT2025 Hanna Lehtimäki, professor at the University of Eastern Finland.
The CICAT20205 project explores the business ecosystems that are connected to a circular economy. As Finland has set a goal to become a global leader in circular economy, reducing the use of natural resources is a priority. Companies are encouraged to develop new technologies for circular economy and seek new business opportunities that are based on the commercialisation of related solutions.
"The transition to a circular economy requires all the members of our society to rethink how we use raw materials and resources. We need not only integrated knowledge that cuts across disciplinary boundaries but also new tools to embrace circular economy thinking. We can effectively accelerate the transition process once we have an in-depth understanding of how the new technologies, business models, change management, politics, the regulatory landscape and culture converge to affect the achievement of these goals. This is why we have harnessed the power of augmented reality to support our project," says PI of the CICAT2025 project Leena Aarikka-Stenroos of Tampere University.
Augmented reality will continue to be utilised by the project participants. It will, among other things, help prevent printed materials from becoming obsolete too soon as it will be possible to keep related digital content continuously up to date. In addition, augmented reality will be utilised in infographics and for other purposes that will come up during the project.
"As we are carrying out world-class research to deliver benefits to Finnish society, companies and decision-makers, it is important that we communicate through diverse channels using state of-the-art technology. Augmented reality allows us to share information in a compelling and memorable way," says Piia Nurmi of Turku University of Applied Sciences. She serves as head of communications during the CICAT2025 project.
Circular economy catalysts: Circular Economy Catalysts: From Innovation to Business Ecosystems (CICAT2025) is a project that is being conducted by a research consortium made up of four Finnish universities and two universities of applied sciences in order to facilitate the transition from a linear to a circular economy. The project supports Finland's strategic objective to become a global leader in circular economy by 2025 by identifying factors that promote and hamper the adoption of circular economy principles and by finding solutions for companies and policy-makers to support the transition. The project is funded by the Academy of Finland's Strategic Research Council.
"The widespread adoption of circular economy principles requires a multidisciplinary approach that will ensure that the transition offers attractive business prospects and that the changes can be easily implemented. Digital technologies – such as blockchain technology that improves transparency, IoT, analytics and artificial intelligence that help optimise the cycles, and augmented reality that illustrates the potential of a circular economy – have a significant role in facilitating the transition. The CICAT2025 project is an excellent undertaking that brings together all these different catalysts", says Kari Huoponen, enterprise growth programme leader at IBM Finland.
The content offered via augmented reality has been created in collaboration with Metaria ry's team (Jyrki Pylväs, Maria Oiva and Juhana Sarkki). The free Arilyn app can be downloaded from Google Play or App Store.